Team Building Workshops
Hen Dos
Private or Corporate events
Weddings
Birthdays
Children's Events
Schools and Clubs
We dance to celebrate, to pass on knowledge, and in the name of loved ones. We dance to inspire, enliven and entertain. We dance to share.
We dance in big theatres or at family picnics. We would love to dance with you at your lūʻau or event.

No run-of-the-mill fancy dress versions of a Hula Girl here! We bring authentic Polynesian performances that transport your guests to the shores of Hawaiʻi and Tahiti. We will work with you to ensure that we create the perfect show or lesson for your event.
We always receive great feedback on our shows and lessons and are happy to say that our supportive approach encourages both men and women to get involved. Your guests will be entertained and will have gained a valuable and memorable experience.
We are proud to participate in a number of fundraisers and charity events each year. Please be in touch for more information.

We are based in London, however we provide performances throughout the UK and beyond.
SERVICES:
Lei Greeting and Welcome Dancers

Polynesian Dance Show

Fire Performance

Live Band or a Ukulele Player

Lei Making and other cultural crafts
Enquire about a show or lesson
To play a mix of Tiki classics, hit tunes done Island Style, and the percussion of Polynesia!
Learn stories and dances. Learn to work together and to move together.

'What a unique experience! Everyone was talking about it for days, and we still use elements from the workshop in our office.'

Add a tropical touch to your party! A range of packages are available, and custom packages can always be created to suit your event.
ʻIt's been great working with you and putting this together, your help and ideas (and cultural knowledge!) has been much appreciated. The delivery on the day was exceptional, all your team were fantastic. The outfits all looked amazing, the band were spectacular, and [the organisers] could not have been more complementary about everything afterwards.'

We won't lie, these are hilarious and sexy and all kinds of awesome! We get the groups involved, teaching a fun, light hula and showing the gals how to shake their thangs. Every woman (and their group of friends) is different, so each Hen party is tailor made. There are all kind of things we can do to entertain [lovingly embarrass] your bride-to-be and make her feel special.
The bride-to-be absolutely loved her unexpected surprise and I've got some great photo mementos which I will be sticking in her memory book tonight before she flies back to Oz. You handled the group so impressively well and I loved all of the personal touches you gave to make her feel super special.'

If your party is Moana or Tropical themed, or you're looking for something cool and fun for the kids, you've come to the right place! The children always have a great time and we have a great time teaching them!
'The children loved and enjoyed it. The birthday girl did not want it to end!'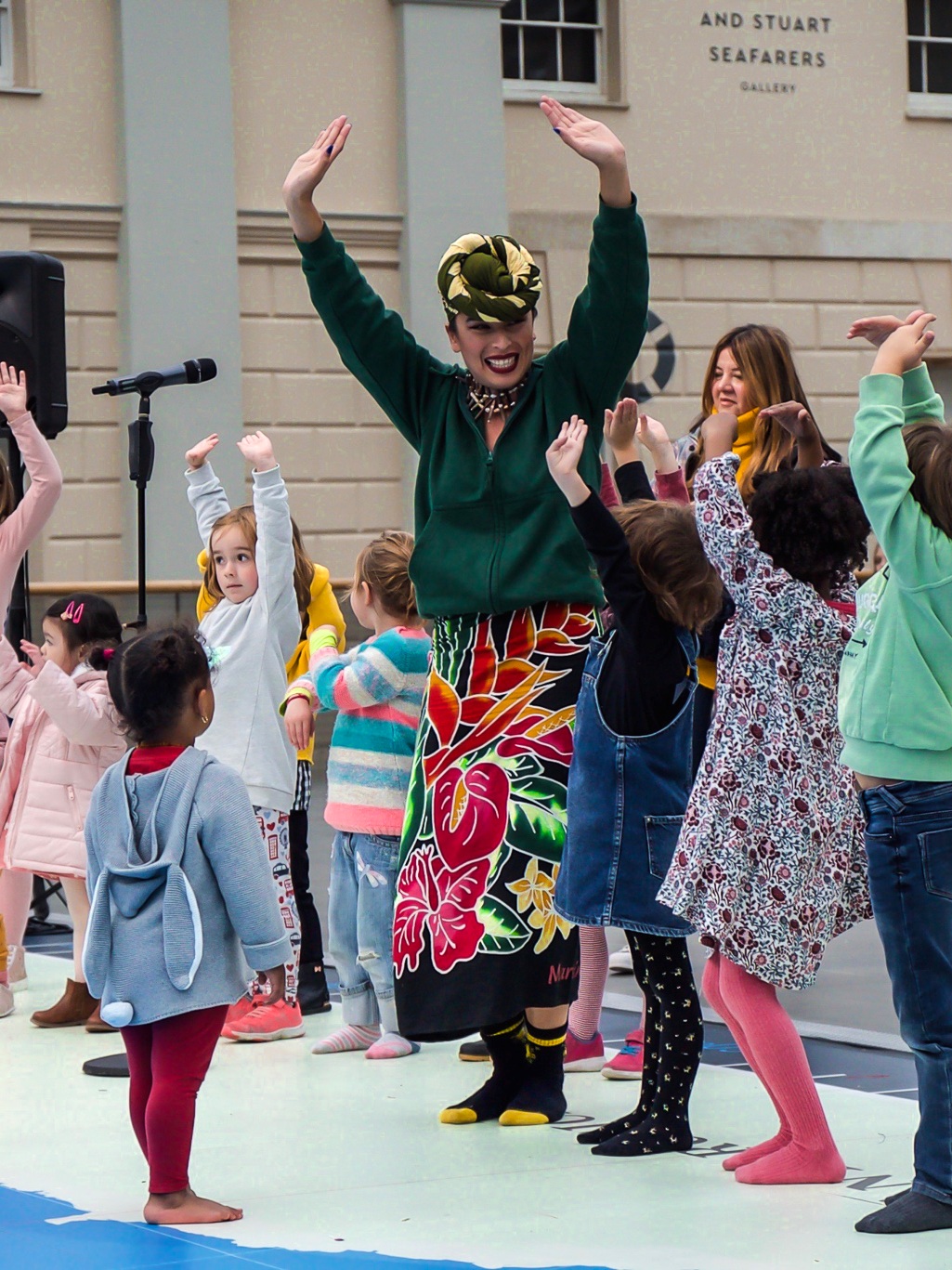 FUNDRAISERS + PUBLIC EVENTS
Whether your're a museum, a festival, or an organisation putting together a public event, we would love to get involved! We have created a show which mixes education and entertainment, if youʻre after a bit more depth.
ʻA HUGE thank you for Saturday. The performances were gorgeous, powerful and moving, a real highlight of the day.'
- National Maritime Museum